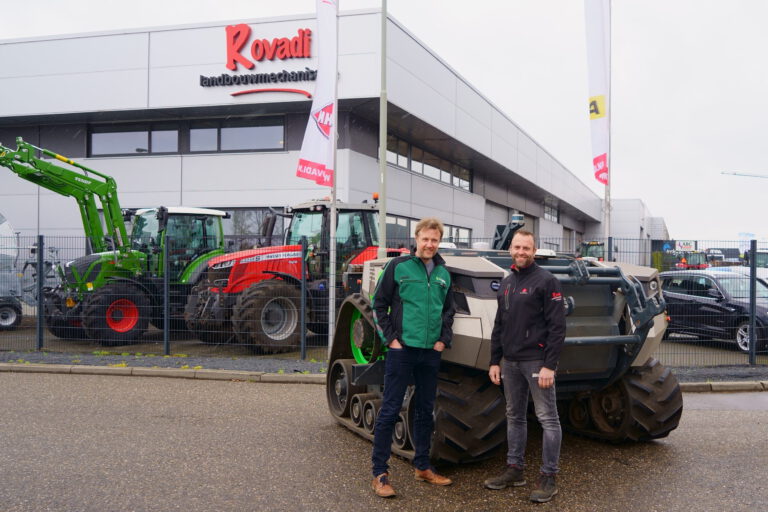 AgXeed at Rovadi (1 Apr 2022)
AgXeed stelt Rovadi aan als officiële distributie- en servicepartner in Zuidoost-Nederland
AgXeed kondigt Rovadi Landbouwmechanisatie aan als distributie- en servicepartner voor hun productlijn van autonome oplossingen in Zuidoost-Nederland.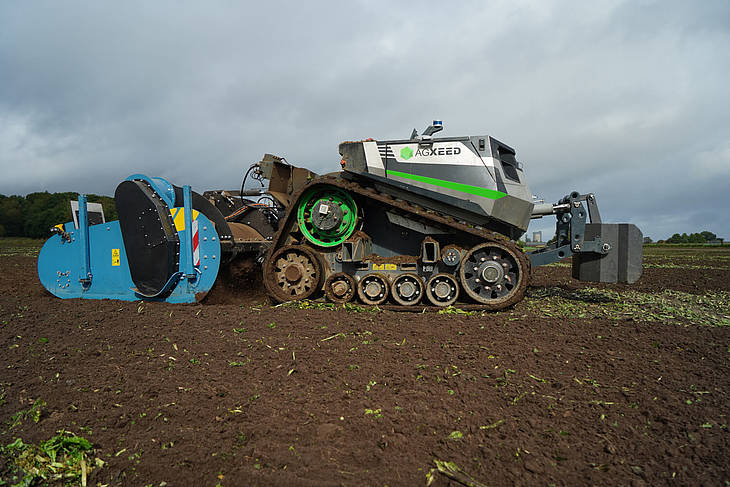 AgXeed at Entraid (9 Sep 2021)
Performances, prix et disponibilité: ce qu'il faut savoir sur l'AgBot
C'est une des stars de l'édition 2021 d'Innov'Agri. A chaque démarrage de l'AgBot, cela se bousculait au bord de la parcelle de démonstration. Comment fonctionne t-il? Que peut-il faire? Quel est son prix? Le point sur ce qu'il faut savoir sur le robot proposé par AgXeed.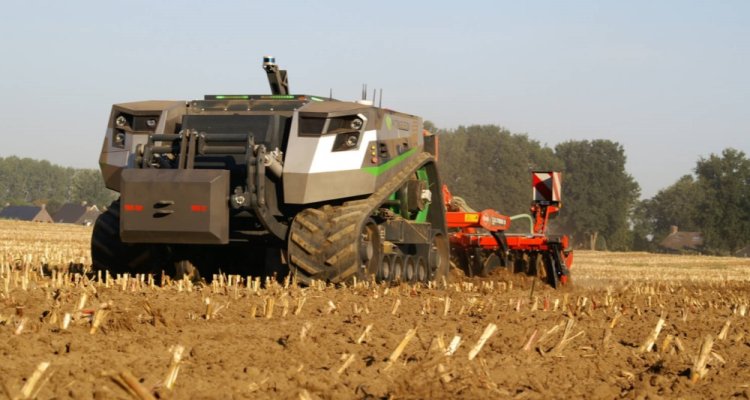 AgXeed at WUR (20 May 2021)
Much interest in Farm of the Future innovation vouchers
The voucher provision for the Wageningen University & Research (WUR) Farm of the Future agro-ecological research project attracts a lot of attention. Over fifty domestic and foreign businesses have applied to test an innovation or new technology for circular agriculture over the last few months. Four applicants, all of whom develop autonomous field robots, have received a voucher. This enables them to use the facilities, expertise and support of the Farm of the Future. New applications are still welcome.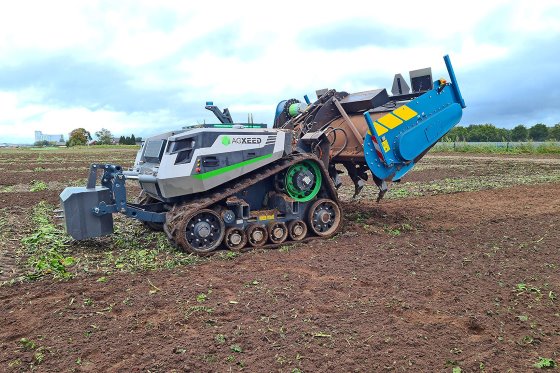 AgXeed at iVTinternational (17 May 2021)
Claas enters autonomous market with high-tech AgBot
German agricultural machinery manufacturer Claas has invested in a Dutch robotic start-up company to step into the autonomous tractor market.
The company has entered into a cooperative venture with AgXeed BV and acquired a minority shareholding in its international funding round as a mark of their commitment.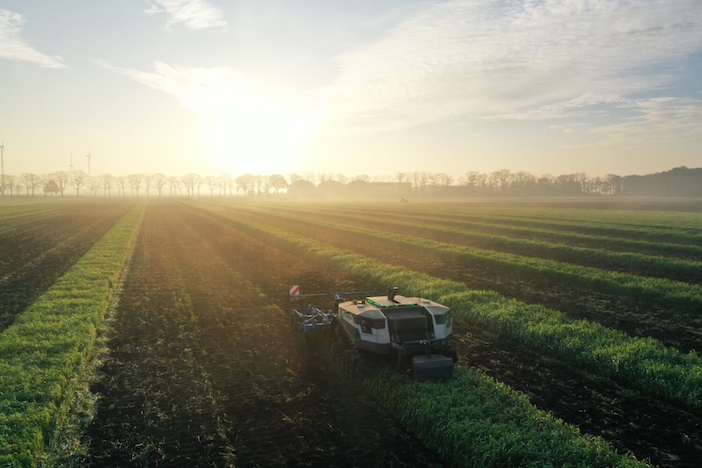 AgXeed at RTV Noord (17 May 2021)
Zelfsturende landbouwrobot wordt getest op Groot Maarslag
Op een akker net buiten Eenrum wordt deze dagen een bijzondere landbouwmachine getest. Het gaat om een robot die de grond van de akker loswoelt, zodat er mais ingezaaid kan worden. Het is een prototype dat is ontwikkeld in Limburg en wordt getest door de firma Doorgrond uit Groot Maarslag.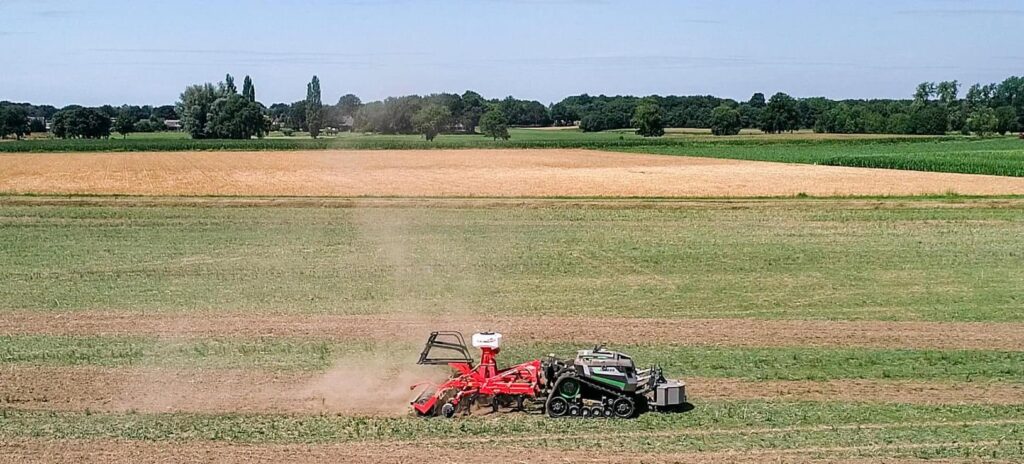 AgXeed at Elibote (14 May 2021)
Kooperation mit Start-Up AgXeed
Claas startet eine Kooperation mit AgXeed B.V. in den Niederlanden und unterstreicht diese im Rahmen einer internationalen Finanzierungsrunde des Start-Ups per Minderheitsbeteiligung. Ziel ist die Zusammenarbeit zu Entwicklung und Vertrieb autonomer Landmaschinen.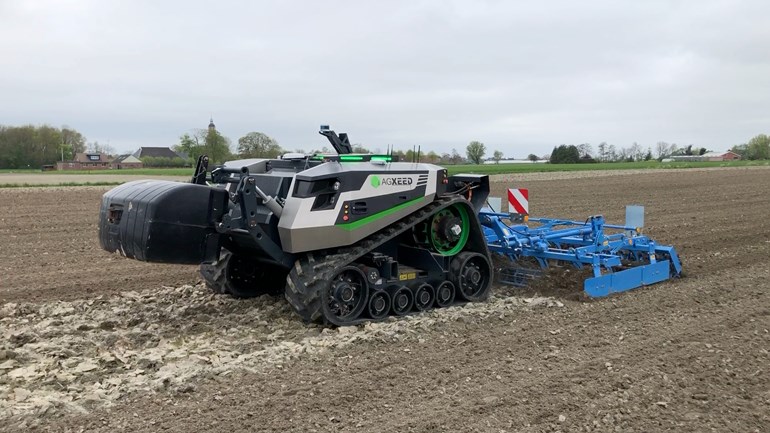 AgXeed at Mechaman (4 Mar 2021)
AgXeed, Faromatics and HONEY.AI winners Robot event
During the agROBOfood event "Pitch your Robot, Find your Investor" SMEs presented solutions they have developed for the agri-food sector to investors, so as to secure funding to continue their work! The event (10,11 February) was built on the momentum of the previous Open Calls.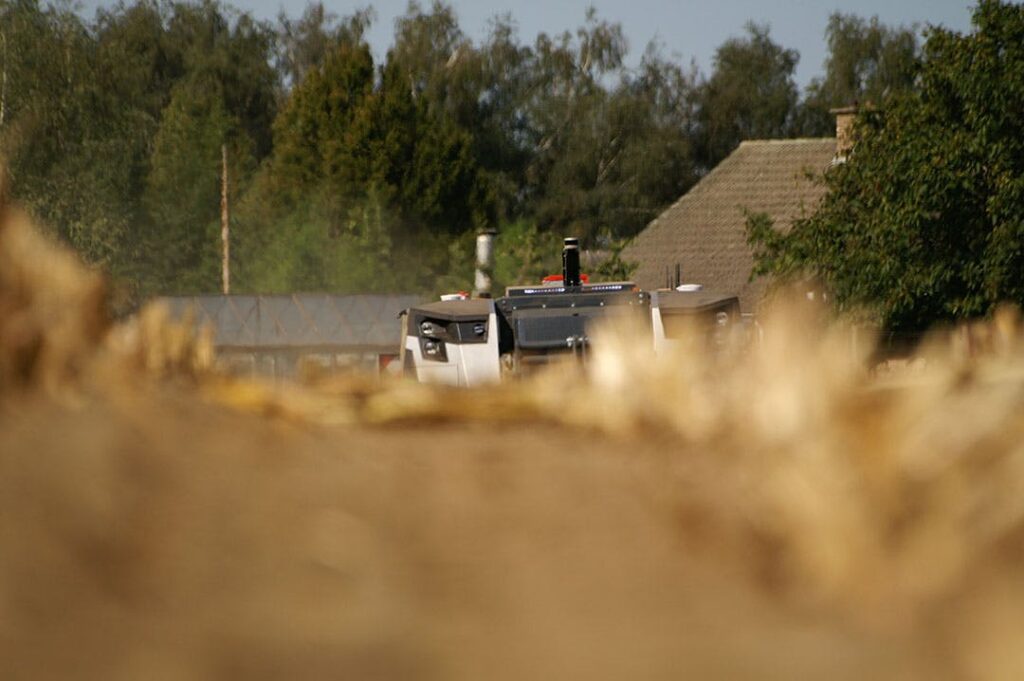 AgXeed at The European Commission (18 Dec 2020)
European Innovation Council pilot – €176 million to 38 start-ups and SMEs set to shape the future
The European Commission has selected 38 of Europe's most promising start-ups and SMEs to receive funding of between €1 and €17 million to develop and scale up ground-breaking innovations in Europe. This is the last round of funding in the pilot phase of the European Innovation Council (EIC) Accelerator and it received over 4200 applications, the highest number ever. The innovations include a revolutionary device for rapid detection of sepsis, innovative robotic sorting technology to reduce hazardous waste and the first indoor plant light that can be controlled cutting energy costs.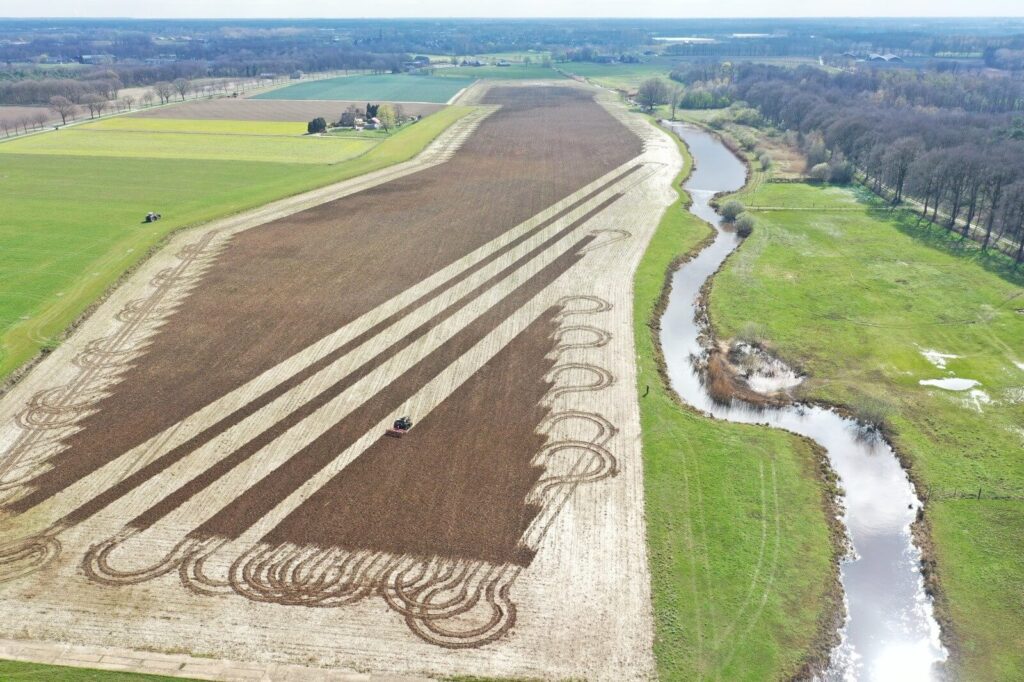 AgXeed at Agroinform (8 Dec 2020)
Ezt a brutális robottraktort látnod kell munka közben – VIDEÓ
Két hónappal az autonóm traktor premierje után máris egy szenzációs szántóföldi bemutatóval rukkolt elő a holland mezőgazdasági start-up cég. Az AgXeed saját fejlesztésű 156 lóerős önvezető erőgépe egy elektromos meghajtású kombinált ásó- és talajlazító munkaeszközzel dolgozott élesben.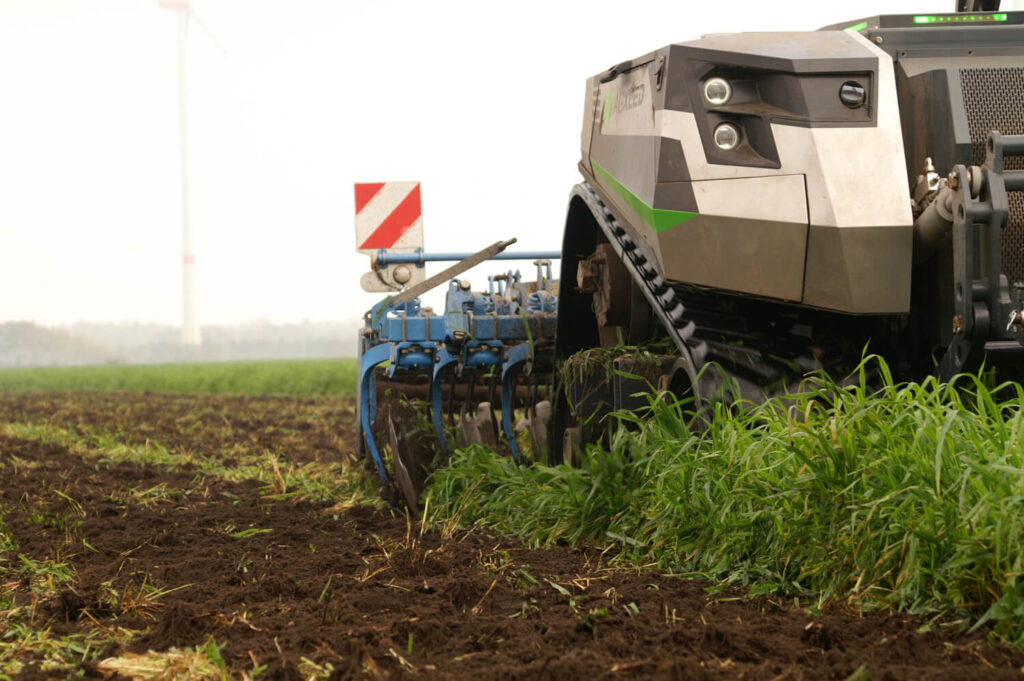 AgXeed at Future Farming (4 Dec 2020)
AgXeed robot tractor test drive: first impression
Future Farming were the first to see the new AgXeed robot tractor at work. Watch the video!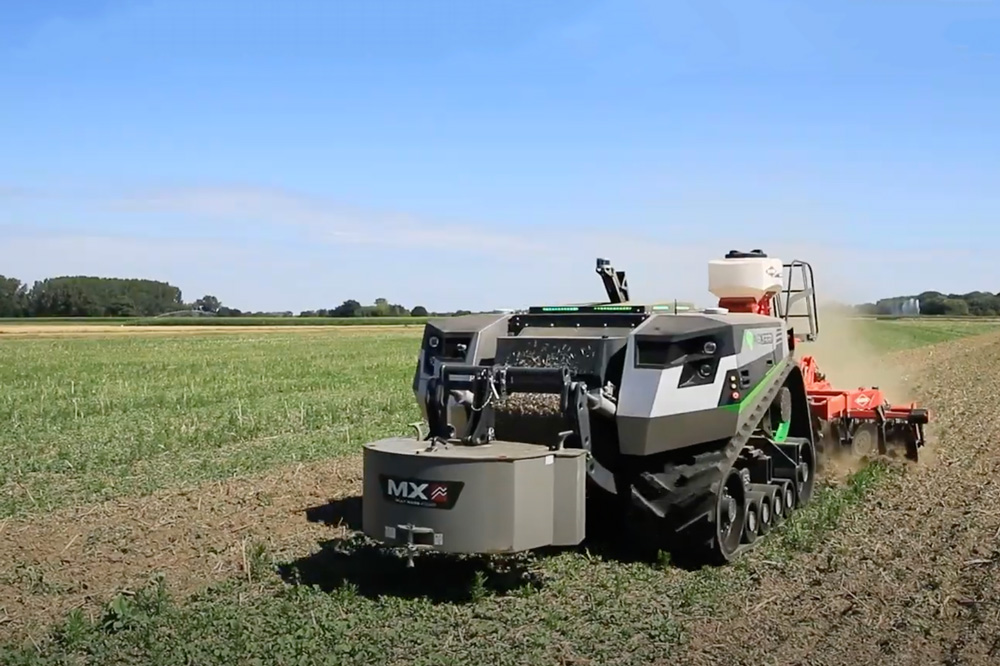 AgXeed at Mechaman (2 Dec 2020)
Mechanisatie voor Morgen: De weg naar robotisering
Tijdens Mechanisatie voor Morgen, een evenement van vakblad LandbouwMechanisatie, wordt in zes afleveringen in gegaan op verschillende thema's. Tijdens de vijfde aflevering spreekt Philipp Kamps, marketing manager bij AgXeed.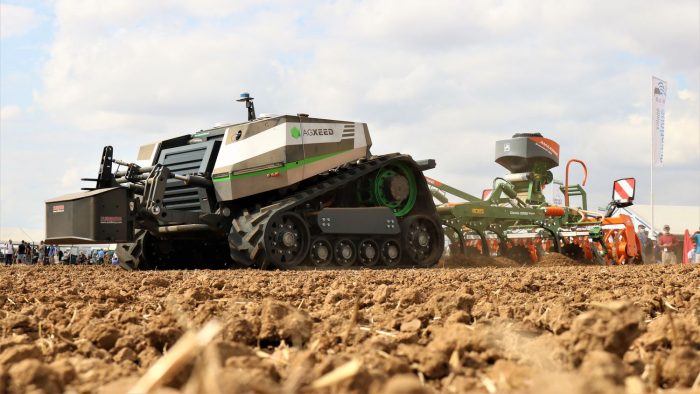 AgXeed at Hortipoint (14 Nov 2020)
Nieuwe robottrekker rijp voor praktijk
AgXeed is een jong bedrijf met landbouwtechnici die eerder bij grote machinefabrikanten hebben gewerkt. Het concept is op een agrarisch bedrijf in Noord-Limburg uitgebouwd tot de eerste robottrekker. Daar, en ook bij boeren in de buurt, is deze Agbot getest. We mochten een kijkje nemen bij het autonoom onderwerken van een groenbemester, met een schijveneg:
Het concept zal meerdere robottrekkers omvatten die breed inzetbaar zijn in open teelten. De basis kan modulair worden uitgebouwd tot bijvoorbeeld een rooier voor bomen op smalspoor.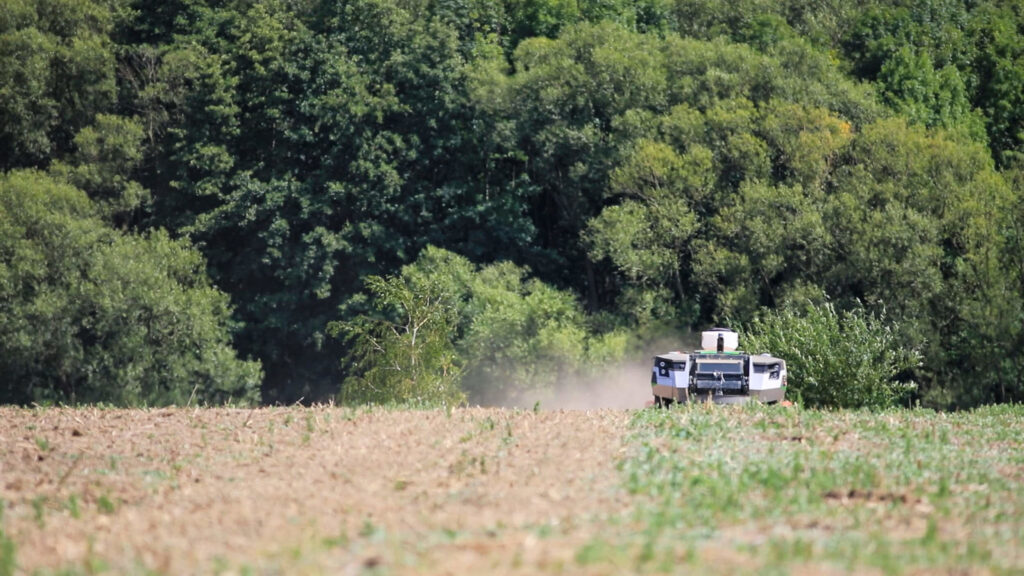 AgXeed at Farm Connextion (6 Oct 2020)
L'AgBot, un robot destiné aux grandes cultures
L'AgBot se distingue des petits robots de culture ou de maraîchage, alimentés généralement par des batteries, dotés de petites roues, mais aussi de modèles plus proches de tracteurs classiques avec cabine avec ou sans cabine. En effet, le néerlandais a opté pour un moteur diesel de 156 chevaux et une transmission électrique pour une grande progressivité ainsi qu'un train de chenilles triangulaires. L'appareil est plutôt bien doté puisqu'il bénéficie d'une prise de force électrique de 136 chevaux, d'un relevage de catégorie III de 8 tonnes et d'un relevage avant de 3 tonnes.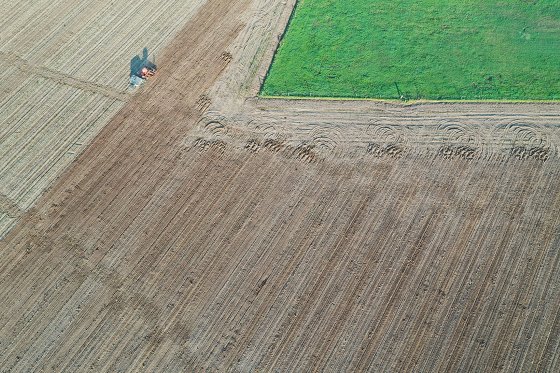 AgXeed at Boerderij (2 Oct 2020)
Nederlandse robottrekker komt eraan
Start-up AgXeed in Oirlo (L.) heeft een robottrekker ontwikkeld om breed in te zetten in open teelten: de Agbot.
De eerste versie heeft een dieselmotor van 156 pk en wordt in de praktijk getest. De Agbot wijkt af van de kleine accu-aangedreven veldrobots met kleine wielen, maar ook van de grotere cabineloze standaardtrekker. De trekker heeft een elektrische aandrijving, rupsonderstel, elektrische aftakas met 136 pk, 8-tons categorie III-hef en 3-tons fronthef.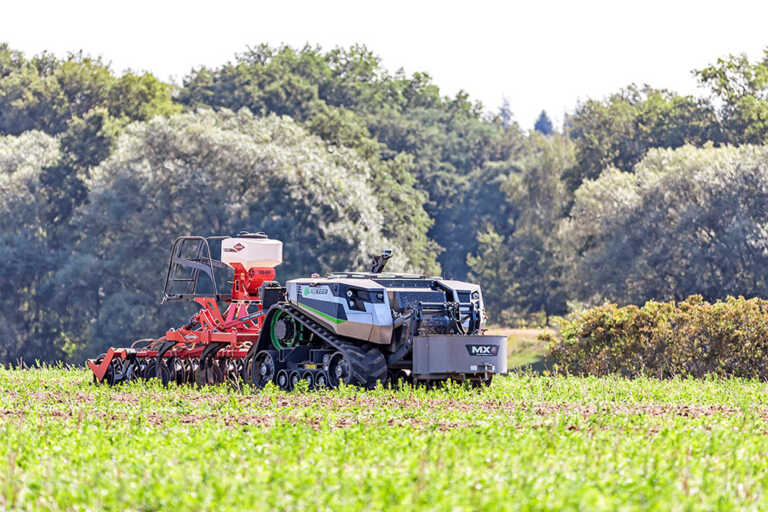 AgXeed at Trekkeronline (23 Sep 2020)
Wereldprimeur: Hollanders vinden robot 2.0 uit
Deze week stelt de Nederlandse start-up AgXeed haar praktijkrijpe robottrekker voor. TREKKER kreeg alvast een exclusieve preview van deze wereldpremière: een robot die akkerbouwers volgens hen wél zien zitten. Het geheim? Visie, ervaring in de landbouw, korte lijnen en de juiste partners. De Nederlandse start-up AgXeed ontwikkelde in krap twee jaar een praktijkrijpe robottrekker waar akkerbouwers volgens hen wél op zitten te wachten.
AgXeed at Future Farming (23 Sep 2020)
Dutch start-up AgXeed premieres 'robot tractor 2.0'
This week, Dutch start-up AgXeed premieres its robot tractor. A robot that arable farmers have been waiting for, they say. Their secret? Vision, experience in agriculture, a small organisation and the right partners.